Mark Gaillard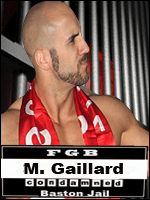 Nom:
Mark Gaillard
Surnoms:
 "L'Horloger", "Le Lutteur du Siècle" (suite à sa victoire au tournoi century), "Mr. Bloody", "The Most Violent Swiss", "The Bloodiest Watchmaker" "5 Times Bloody Champion", "El Loco Swiss" (hommage à El Loco Julian Sanzo) "The Bloody Legend"
Surnoms par ses ennemis :
Le Pti' Suisse, l'Homme des petits événements, Mr. Honor & Glory, Mark Pas-Si-Gaillard-Que-Ça [par Prime à la SoW]
Catch Phrases:
"Précis comme un horloger, mais violent comme un boucher", "C'est l'heure" [il dit cette phrase avant de faire son SMIS]
Age:
41 ans (il est né le 23 mai 1976)
Taille:
1.93 m
Poids:  
110 kg
Provenance:
La Brévine, Suisse
Attitude:
Neutre (Tweener)  

Description Vestimentaire:
Il arrive en t-Shirt sur lequel est inscrit, "Bloody Legend" en lettres couleurs sang. Il combat avec un caleçon noir avec écrit Bloody Gaillard aux fesses ainsi que des coudières et genouillères de la même couleur.
Theme d'entrée:
Hands Like Houses - Watchmaker (Featuring Matty Mullins)
Description de l'entrée:
Les premières notes de Watchmaker du groupe Hands Like Houses se font entendre. Peu après, un léger voile de fumée apparaît sur le sol se situant sous le titantron. Un drapeau suisse apparaît ensuite sur cette écran géant avant de laisser place à une vidéo compilant les plus beaux SMIS que Mark Gaillard a pu réaliser à la FGB ! L'Horloger arrive enfin en chair et en os sur le stage. Il salue la foule de façon très neutre, puis s'avance tranquillement vers le ring (si le combat s'annonce violent, il vient accompagné de sa cloche). Le suisse marche ensuite jusqu'au pieds du ring, là, il marque un léger temps d'arrêt afin de regarder son poignet, faisant mine de regarder l'heure. Mark Gaillard se dirige ensuite vers les escaliers métalliques et monte ceux-ci. Il s'essuie, par la suite, les pieds sur l'apron du ring avant de passer entre les cordes et rejoindre l'aire de combat, où il s'échauffe une dernière fois la nuque et les poignets avant que le match ne débute.  
Finisher 1:
SMIS (pour Stunner Made In Switzerland) (Backpack Stunner)
Finisher 2:
Bloody Driver (Dreamer Driver)
Il peut rendre cette prise de finition Hardcore en l'exécutant sur n'importe quoi : table, punaises ...
Prises Favorites:
Le Tour de l'Horloge (Une descente du genou sur un bras, puis sur le ventre, puis sur la jambe, puis l'autre jambe, puis de nouveau le ventre, puis l'autre bras, avant de finir par la tête ! Le tout de le sens des aiguilles d'une montre ! )
Moveset
: Atémis, Backbreaker, Back Suplex, Belly to Belly Suplex, Big Boot, Boston Crap, Buldog, Camel Clutch, Chokeslam Cobra Clutch, Corner Clotheline, Clotheline, DDT, Diving Clotheline, Diving Elbow Drop, Double Arm DDT, Double Arm Suplex, Diving Splash, Dropkick, Elbow Drop, European Uppercut, Facebreaker Knee Smash (Triple H style), German Suplex, Headbutt, Inverted DDT, JawBreaker, Knee Drop, Lariat, Los Three Amigos, Military Drop, Neckbreaker, Pedigree, Piledriver, PowerBomb, PowerSlam, Prise du sommeil, Punches, Samoan Drop, Scoop Slam, Sidewalk Slam, Spear, Spinebuster, Superplex, Suplex, Surpassement, Tiger Bomb, Uppercut ...
Style de combat :
Tout d'abord très axé hardcore, Mark a su démontrer qu'il peut être un redoutable technicien sur un ring. Le High-Flying lui fait cependant défaut.
Son Histoire:
Il fut horloger jusqu'à il y a quelques années avant de se lancer brillamment dans la lutte. Il a tout les clichés d'un Suisse: il a un accent très prononcé... Il déteste que l'on dise du mal sur son pays et encore plus sur sa Romandie (La partie de la suisse où l'on parle français) Il a très bien débuté sa carrière en remportant deux titre Bloody face à El Loco avant de se faire blesser suite à une attaque de la Brigade K ! Cette blessure l'écarta des rings plusieurs mois, mais il est enfin de retour ! Il devient même Champion Bloody pour la troisième fois en battant Diamant Brut. Il devient par la suite suite le second Homme à Abattre de la FGB en battant Tigerclaw à Total Destruction #2. Il perd son T-Shirt à Total Destruction #5 à la faveur de BOZO dans un Triple Threat Match incluant également Lexxi Mars. En janvier 2013, il bat Honey Bee et devient Champion Bloody pour la quatrième fois en 4 ans. Il perd son quatrième championnat face à Lily Blood lors d'ABANDON VI. A Honor & Glory VI, il perd face à "The Xtrem Enigma" Draven de la SoW dans un Weapons Match. Il prouve par la suite qu'il n'est pas seulement un lutteur hardcore, mais qu'il est aussi un très bon technicien, lors d'un Beat The Clock Match face à DJ Shaft se terminant sur un match nul. Il se fait passer à tabac par La Horde à OMEGA VII, l'empêchant de devenir Champion Suprême. A ABANDON VII, il perd contre M Cube dans un combat pour le titre Bloody, il ne devient donc pas pour la 5ème fois en 5 ans, champion Bloody, du moins pour le moment. En juillet 2014 il attaque violemment le Vice Champion Flying Booya, opérant du même temps un Heel Turn. Il gagne quelques semaines plus tard le titre de ce dernier à DOOMSDAY VII. Il dispute son centième combat à la FGB en battant Galaad, lors de THE FINAL STAND et conservant le titre Vice par la même occasion ! Il perd le titre au profit de Syd Filmore à EXTINCTION VII dans un TLC. Il rate de nouveau l'opportunité de devenir Champion Suprême à OMEGA VIII face à Xtrem, Kronos et Vileny. Il remporte le tournoi Century, au détriment des 128 autres lutteurs participant,il fait face à Luther Kay lors de la finale en février 2015. il remporte la semaine suivante son cinquième titre Bloody face à Vileny lors du show de clôture de la FGB !
Après un court passage à la SoW, en équipe avec Rorry McMurray : les " Two-Dangerous Men", il s'engage ensuite à la WWA où il forme assez rapidement une alliance avec Elena Irons. Il parvient à remporter le Santa's Lock 2015 et devient Champion WWA jusqu'à la fermeture de la fédération. Il est ensuite de retour à la FGB pour la réouverture de la fédération à Gigablast 1, durant lequel il se fait attaquer par Wes Yesco avec un lève-palette ! Il affronte ce dernier à Honor & Glory IX dans un match du chantier qu'il perd. A SANG %, nouvel affrontement face à Wes Yesco avec cette fois-ci le titre Bloody en jeu, Gaillard perd à nouveau face à Wes, après avoir été déconcentré par la diffusion d'images de sa maison incendiée criminellement ! A WRESTLE FEST, nouveau rebondissement dans l'affaire Gaillard qui dure déjà depuis des mois : après une victoire face à Defattaque, il est kidnappé et passé à tabac. Blessé, il est conduit à l'hôpital et se voit écarté des ring quelques semaines. Des vidéos de sa séquestration fuites, dans celles-ci il est question à de nombreuses reprises de Kronos.
A Gigablast 25 il intervient dans le match en faveur de Kronos durant son match face à Mordred comptant pour le poste de General Manager. Kronos, après sa victoire, le nomme nouveau GM de la FGB. Comme première décision, Gaillard instaure un OMEGA Rumble à 30 lutteurs à OMEGA X afin de déterminer le prochain chalenger du champion suprême Mr Mayhem. Il remporte cet OMEGA Rumble et bat Mr Mayhem (qui était champion depuis 1 an) pour devenir Supreme Champion. En devenant champion, il doit déjà démissionner de son poste de GM qu'il aura exercé moins d'un mois. Le 21 mars 2017, il découvre que le responsable des malheurs qui l'accablent depuis des mois est Armada ! Rebondissement à SEVERANCE, après avoir battu Armada par DQ, Mark se retourne contre Kronos, puis avoue la semaine suivante avoir mit ce plan en marche depuis des mois contre Kronos avec l'aide d'Armada ! Il perd son titre suprême lors du Only One Survive d'HONOR & GLORY X, au profit de Tony St-Michel. Il ne remporte pas son re-match pour le titre suprême à SLAUGHTERHOUSE, le show des 10 ans de la FGB.
Avec le soutien d'Armada, nouveau président de Kronosie, il forme une Tag Team avec son ancien rival : Mr Mayhem. Les deux hommes enchaine les performances en équipe et à TITANIUM, ils participe à une série de trois match de championnat face à Pépin Leroy, Coucou et le Duo de Choc pour les titres Tag Team, Bloody et Suprême. Il échouent à remporter de nouveau les titres Suprême et Bloody mais devient pour la première champion par équipe avec Mr. Mayhem. Il devient par le même temps Triple Crown Champion et Grand Slam Champion.
A Gigablast 65, il accuse Kronos d'avoir assassiner le Président Armada !
Faits Marquants:
¤ Alliances/Tag Teams :
- 2011 :
Anti Brigade K (Julian Sanzo, Diamant Brut, Vileny, Dream Machine Theodore J. Detwailer & Mark Gaillard)
- 2011- 2012 :
New Adventure (Rastaboy, Vad Kalandor & Mark Gaillard)
- 2012 :
Thanatos & Mark Gaillard
- 2012 :
Vice-Team (Gentleman Truck, Kim & Mark Gaillard)
- 2013-2014 :
Anti Horde (Los Guerreros de l'Amor, Tigerclaw, Stanley Rosenbaum, The Last Wolves, Vileny & Mark Gaillard)
- 2015 :
2-Dangerous Men (Rorry McMurray & Mark Gaillard) [SoW]
- 2015-2016 :
The White and Red Flags (Elena Irons & Mark Gaillard) [WWA]
- 2016-2017 :
Anti Trial (Tigerclaw, Flying Booya, Yan Yunsung, Kronos, Tony St-Michel, Ryan Wilson & Mark Gaillard)
- 2017-2018 :
Team Armada (Némésis, Crimson, Vileny, Armada, Annihilation, M Cube, Mordred, Mr Mayhem & Mark Gaillard)
¤ Palmarès
5x FGB Bloody Champion
12/10/10 au 23/11/10 (42 jours)
04/01/11 au 22/02/11 (49 jours)
10/04/12 au 10/07/12 (91 jours)
29/01/13 au 28/05/13 (119 jours)
25/02/15 au 11/05/15 (75 jours)
Total : 376 jours
1x FGB Vice Champion
19/08/14 à 25/11/14 (98 jours)
Total : 98 jours
1x FGB Tag Team Champion
28/11/2017 au 03/04/2018 (avec Mr. Mayhem) (126 jours)
Total : 126 jours
1x FGB Supreme Champion
10/01/2017 au 18/07/2017 (188 jours)
Total : 188 jours

1x WWA Champion
24/12/2015 à la fermeture de la WWA (28/01/2016) (35 jours)
Total : 35 jours
1x "Homme à Abattre de la FGB" du 10/11/2012 à 29/12/2012. (3 victoires)
Total : 49 jours
1x Vainqueur du Santa's Lock à la WWA (en 2015)
1x Vainqueur du OMEGA Rumble à la FGB (en 2017)
Gagnant du Tournoi Century de la FGB (tournoi à plus de 100 lutteurs et sur 7 tours de combats !)
¤ Autres accomplissements :
Il a participé à tout les Butcher's Party
Challenger pour les titres FGB :
10x Challenger au titre Bloody (5 Victoires)
4x Challenger au titre Vice Champion (1 Victoire)
3x Challenger au titre par équipe (2x avec Thanatos/1x avec Mr Mayhem) (1 Victoire)
5x Challenger au titre Suprême (1 Victoire)
Challenger pour les titres WWA :
1x Challenger au titre WWA (1 Victoire)
1x Challenger au titre Tag Team (avec Elena Irons)
Challenger pour les titres SoW :
1x Challenger au titre Hardcore
2x Challenger au titre Tag Team (avec Rorry McMurray)
Challenger pour les titres CUW :
2x Challenger au titre Européen
General Manager de la FGB à partir de Gigablast 25 (le 13/12/2016) à OMEGA X (le 10/01/2017) soit 28 jours.